Advintive's full service delivery model covers every aspect of your needs including the following:
Engineering design and planning
System integration and spectrum frequency licensing management
Base station system design/build
Community customer premise equipment supply
Training for local installers
Ongoing remote monitoring, management, maintenance, and support
Note: Advintive's engineering team provides full installation management. Local partners may provide onsite equipment installation.
In preparation for services installation, clients will need:
License for the use of spectrum UHF channels from 470 MHz to 1250 MHz with a minimum of 2×6 MHz channels (services 50 to 150 subscribers) up to >500 MHz (services > 9,000 subscribers)
Tower infrastructure (or permission to erect or share a tower infrastructure) located at an optimal position within the service area
Access to high speed Internet, ideally within 10 – 20 km from the tower infrastructure
Access to electricity at tower infrastructure base
System planning and installation preparation time is typically two to five weeks, and installation itself requires a further one to two weeks.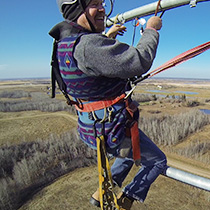 System hardware integration
The following system hardware is provided for the WiDox 3.1 base station and customer premises.
| | Base Station |
| --- | --- |
| Axxess Server | |
| UHF Antenna(s) | |
| WiDox 3.1 Base Station | |
| Transmission Lines and Accessories | |
| Possible Microwave Unit (for backhaul connection to internet location) | |
| | Customer Premises Equipment (CPE) |
| --- | --- |
| | Homes, Businesses, Schools, Work Camps |
| Yagi Antenna | |
| Transceiver | |
| Power Inserter and Cable | |
| Cable Modem (with data outlets, built in router/telephone jack/WiFi/optional battery backup) | |