What is MiLTE technology?
MiLTE is a hardware technology that provides half-duplex wireless service over semi-licensed microwave spectrum in rural and remote areas (internet and VoIP). 
It is built on LTE technology.
Can I provide multicast TV and radio using the MiLTE technology?
No. Television and radio is available on WIDOX 3.1. MiLTE supplies internet and VoIP.
Is MiLTE a hardware or software technology?
MiLTE is a hardware technology.
How far does the MiLTE signal reach in a rural and/or remote area?
MiLTE will provide service up to 15 km/9.5 miles radius (or 700 square km/275 square miles). With MiLTE downstream data rate may not be maintained consistently to the edge of service area.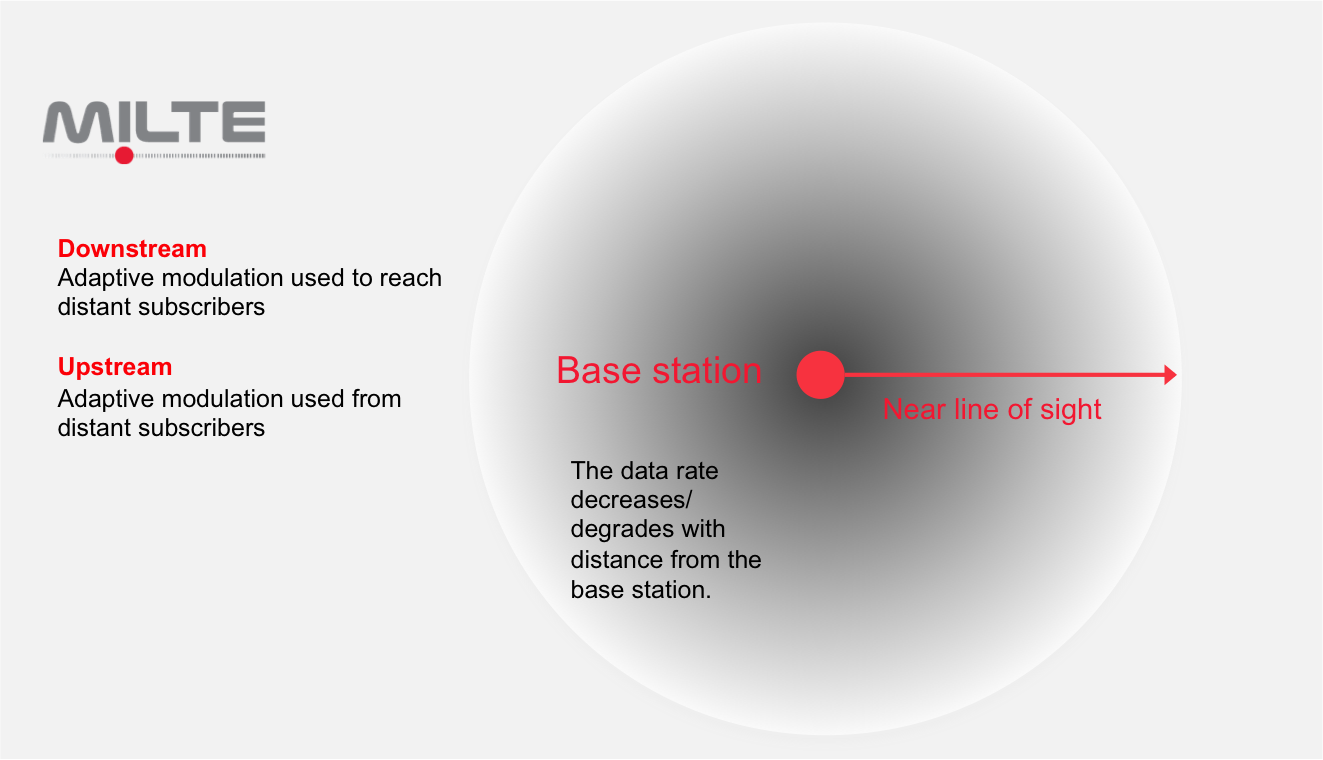 What is the data throughput with MiLTE?
It varies with settings of number of blockes allocated to Upstream and Downstream
EXAMPLE – 60% Downstream, 30% Upstream
Downstream
From 48 Mbps in 1×1 MIMO; 98 Mbps in 2X2 MIMO; to 198 Mbps in 4×4 MIMO;
in 20 MHz BW, 64QAM
Upstream
Up to 14 Mbps in 2X2 MIMO
Is MiLTE full duplex or half-duplex?
MiLTE offers half-duplex. This allows data to be transmitted in both directions on a single channel, but not at the same time.
How much spectrum do we need to service our subscribers with MiLTE?
| Number of Subscribers in 2×2 MIMO | Bandwidth |
| --- | --- |
| 200 | 10 MHz |
| 400 | 20 MHz |
| 600 | 30 MHz |
| 800 | 40 MHz |
| 1000 | 50 MHz |
Note: The above applies in conditions where 1 Mbps up and 5 Mbps down is available and with an erlang of 20.
What are the pre-requisites to installing MiLTE?
Semi-license to TD-LTE Bans 40 (2.3 GHz), 41 (2.5 GHz), 42 (3.5 GHz) microwave spectrum with a minimum of 10 MHz channel width (services ~100 subscribers) up to 50 MHz (services ~500 subscribers (see table above)
Tower infrastructure (or permission to erect or share a tower infrastructure) located within the service area
Access to internet a maximum of 30 km from the tower infrastructure
Access to electricity at tower infrastructure base
How high does our tower infrastructure need to be for MiLTE installations?
We recommend your tower is as high as possible to get the maximum coverage with MiLTE. Your tower infrastructure should be placed on the highest terrain in the area—in short, the higher the better. The minimum height of the top of your tower infrastructure must be 30 meters/100 feet above the market area you are serving.
Does MiLTE require clear line of sight?
No, it requires near line of sight (also called non-line of sight). This allows for partial obstruction, such as foliage and small buildings within the service area.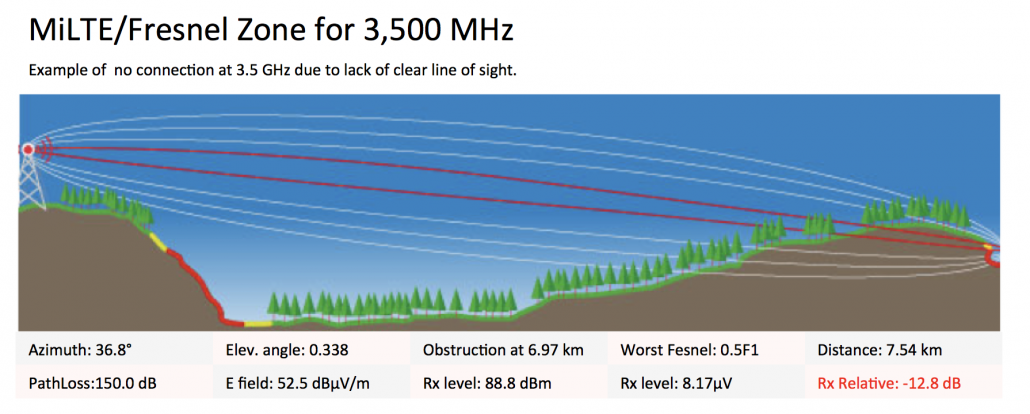 Does Advintive handle the entire installation of our MiLTE technology?
Yes. Adventive's full service delivery model covers every aspect of your needs and includes the following services
Site survey
Engineering design and planning
System integration and UHF spectrum frequency licensing management
Engineering approvals
Base station system build
Community customer premise equipment supply
Installation management
Ongoing remote monitoring, management, maintenance, and support
Note: Advintive's engineering team provides full installation management. Local partners may provide onsite equipment for MiLTE installation.
What base station equipment is supplied with MiLTE?
The following base station equipment is supplied with MiLTE:
| | MiLTE Base Station |
| --- | --- |
| Axxess Server | |
| LTE Antennas | |
| GPS Antennas | |
| MiLTE Rack | |
What customer premise equipment (CPE) is supplied with MiLTE and how long does it take to install?
The following hardware equipment will be supplied and installed in your subscribers' location (home/business) with the MiLTE. Installation will take one hour or more at each location.
| | MiLTE Customer Premises Equipment (CPE) |
| --- | --- |
| | Homes, Businesses, Schools, Work Camps |
| Microwave Antenna | |
| Modem (with built in router/telephone jack/WiFi) | |