An economically viable solution serving rural and remote communities
Advintive's most advanced wireless communication solution, WiDOX 3.1, is a leading-edge technology model that uniquely provides extended range and full-duplex wireless services to those who otherwise would have limited access to modern-day communications technology. The WiDOX 3.1 solution is an ideal and economically viable solution for current and emerging low density populated rural and remote communities. It can satisfy all conventional applications, such as residential and business high speed internet, telephone, distance learning, and multicast television and radio.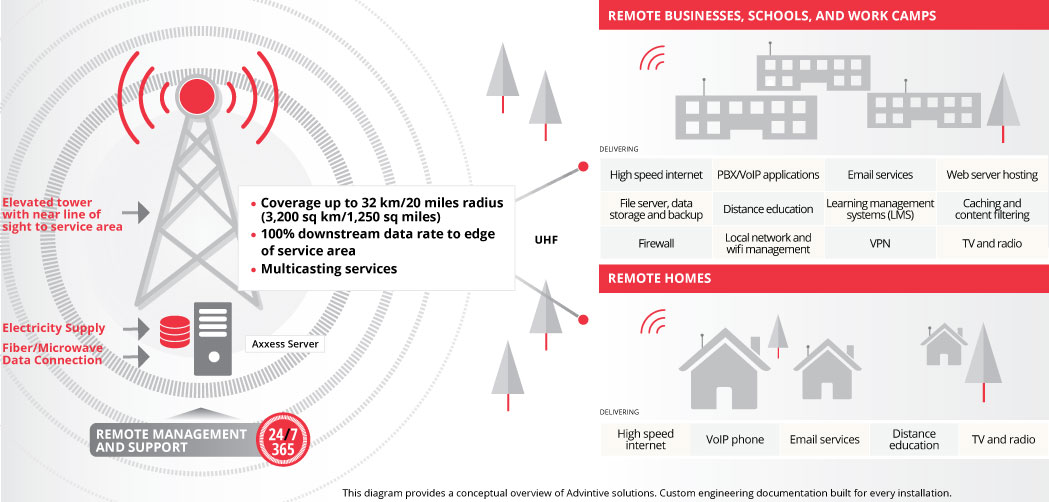 A sophisticated communications network that offers extensive benefits
| | |
| --- | --- |
| Extended range | Utilizing full spectrum UHF wireless technology, WIDOX 3.1 can deliver service to areas greater than, or equal to, 3,200 square km/1,250 square miles (32 km/20 miles radius) depending on the terrain. In some areas its range extends as far as 56 km/35 miles radius. This wide area coverage results in the need for fewer towers and base stations, which reduces the cost to deploy and support networks. On average, WiDOX 3.1 provides five times greater wireless coverage than MiLTE. |
| Supports DOCSIS 3.0 and 3.1 | Uses leading-edge DOCSIS technology to efficiently deliver 'Comcast like' broadcast services, comparable to cable company throughput quality, built on a wireless network. |
| Receive Processing Unit (RPU) | Advintive utilizes a Receive Processing Unit to process the received signal to give a higher signal to noise ratio on the received signal at the base station. |
| 100% downstream data rate | Delivers reliable constant downstream data rate, regardless of distance from base station, right to the edge of the service area. |
| Multicasting capability | Allows the delivery of television and radio to all subscribers in the service area. |
| Full-duplex wireless communication | Transmits and receives simultaneously. Ideal for quality video conferencing and phone service. |
| Near line of sight (NLOS) | Operates effectively in near (or in some cases non) line of sight conditions—foliage, small buildings, and hills will not obstruct service. |
| Low latency | Offers fast response you can count on—excellent for gaming, e.g., Xbox. |
| Standards and protocol compliant | Supports most existing standards and protocols—IPV4 and IPV6 compliant. |
WIDOX 3.1 near line-of-sight advantage
The WIDOX 3.1 technology model operates with a near line-of-sight advantage over traditional clear line-of-sight technologies. This means that complex geographies have fewer, if any, shadow zones and the UHF optimized technology allows for quality signal strength even through thick forests, precipitation, and other traditional natural and human constructed barriers.
Tried and tested around the globe
The Advintive engineers have garnered the know-how to build the WIDOX 3.1 technology solution from years of testing, optimization, and experience in harsh environments and challenging mixed geographies around the globe. A family of software applications and integrations has been developed and implemented on a Linux server platform, and complimented by open source technologies, to provide cost-conscious (no licenses) solutions with the best commercial reliability for our clients.
WiDOX 3.1 is a universal technology platform and an excellent social equality enabler
With 1.5 billion people without Internet, WiDOX 3.1 technology solves a global challenge by delivering a viable, cost-effective, and efficient solution that far exceeds current day offerings