The ideal communications solution for remote communities with access to semi-licensed and unlicensed microwave wireless frequencies
Advintive's MiLTE wireless communication solution is an excellent technology model for providing long range, half-duplex wireless services to rural and remote communities where access to modern-day communications technologies is limited. The MiLTE solution can satisfy immediate communications needs in low-density populated rural and remote communities, including high speed internet and telephone services for homes and businesses.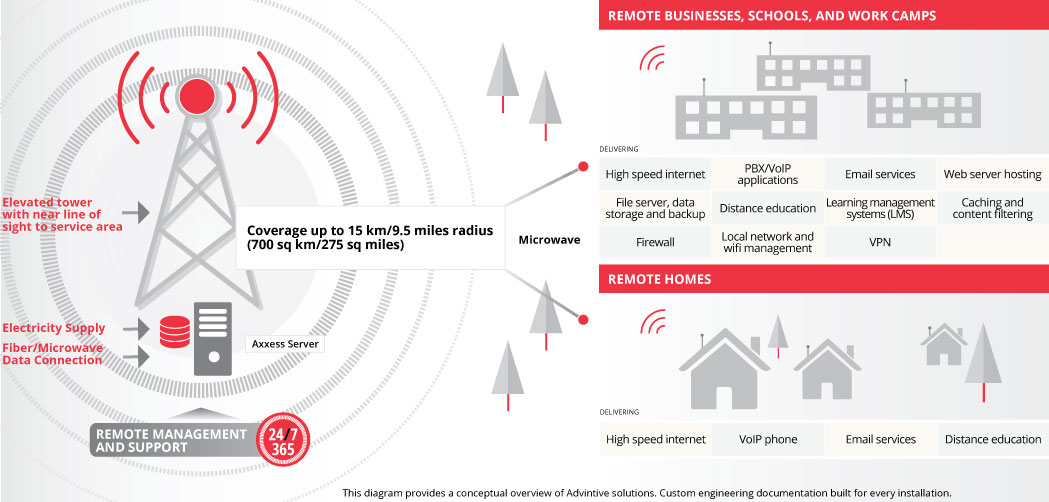 A communications network that serves a 15kms/9.5 mile radius service area
Utilizing semi-licensed and unlicensed microwave wireless frequencies, MiLTE can deliver service to an area greater than, or equal to, 700 square km/275 square miles (15 km/20 miles radius). This hardware technology solution includes the following benefits:
| | |
| --- | --- |
| Long range coverage | Provides coverage up 15 km/9.5 miles radius. This long-range coverage results in the need for fewer tower infrastructures, which will reduce the cost to deploy and support multiple networks. |
| Supports LTE Standard | Uses the latest world-wide LTE technology |
| Half-duplex Wireless | Uses Time Division Duplex (TDD) |
| Line of Site | Requires clear line of site (first Fresnel zone) |
| Low Latency | Offers 15 to 25 ms transmission |
| Data Rate and MIMO | Deploys Multi Input Multi Output channels to increase data rates from 48Mbps to 197 Mbps |
| Multi Carrier Transmission | Uses OFDM to substantially improve Signal to Noise performance in Downstream; and Single carrier in Upstream. |
| GPS Control | Uses GPS timing to ensure all transmitters transmit at the same time |
Successfully installed and operational around the globe
MiLTE combines a hardware solution, complemented by open source software technologies (Linux Operating System), to provide reliable, cost-effective solutions for our clients. As a leader in the development and delivery of modern-day communications services, we have more than a decade of experience testing and optimizing our MiLTE solution in the harsh environments of Western Canada; and today we have installations around the globe.