Advintive takes care of every aspect of your communication needs including the following:
Site survey
Engineering design and planning
System integration and semi-licensed UHF spectrum frequency licensing management
Engineering approvals
Base station system build
Community customer premise equipment supply
Installation management
Ongoing remote monitoring, management, maintenance, and support
Note: Advintive's engineering team provides installation management. Local partners may handle onsite installations.
In preparation for services installation, clients will need:
Semi-license to TD-LTE Bands 40 (2.3 – 2.4 GHz), 41 (2.496 – 2.69 GHz), 42 (3.4 – 3.6 GHz), or 43 (3.6 – 3.8 GHz) microwave spectrum and a minimum of 10 MHz channel width (services ~100 subscribers) up to 50 MHz (services ~500 subscribers)
Tower infrastructure (or permission to erect or share a tower infrastructure) located within the service area
Access to the Internet, either at the tower or within backhaul distance
Access to electricity at tower infrastructure base
Typically system planning and installation preparation will require two to five weeks, and installation will require one to two weeks.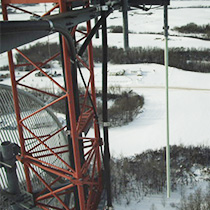 System hardware integration
The following system hardware is provided for the MiLTE base station and customer premises.
| | MiLTE Customer Premises Equipment (CPE) |
| --- | --- |
| | Homes, Businesses, Schools, Work Camps |
| Microwave Antenna and Radio | |
| Modem with built in router/telephone jack/WiFi | |
| | MiLTE Base Station |
| --- | --- |
| Axxess Server | |
| LTE Antennas | |
| GPS Antenna | |
| MiLTE Rack | |